LG DIGITAL SIGNAGE 98UH5J-H
LG UH5J-H จอโฆษณา Digital Signage ความสว่างสูง
ผิวหน้าจอแบบด้านช่วยลดการเกิดเงาสะท้อน
ความสว่างหน้าจอสูงถึง 500nit ให้ภาพคมชัดแม้ในสถานที่มีแสงสว่างมาก
จอบางสุดเพียง 4 มิลลิเมตร ติดตั้งสวยงาม
ให้ภาพคมชัดระดับ 4K
ให้ประสิทธิภาพในการแสดงผลสูงสุดด้วย webOS
พร้อมระบบจัดการสื่อโฆษณาจากส่วนกลาง ใช้งานง่าย
| | |
| --- | --- |
| Weight | 66000 g |
| Dimensions | 219.18 × 124.68 × 86.1 cm |
| Warranty | 3 Year |
| Connectivity | AUDIO IN (x1), AUDIO OUT (x1), DISPLAY PORT (x1), DVI-D IN (x1), HDMI (x3), HDMI OUT (x1), IR IN (x1), RJ45 IN LAN (x1), RS-232C IN (x1), RS-232C OUT (x1) |
| Screen Size | |
Panel
| | |
| --- | --- |
| Screen Size | 98″ |
| Panel Technology | IPS |
| Back Light Type | Direct |
| Aspect Ratio | 16:9 |
| Native Resolution | 3,840 X 2,160 (UHD) |
Mechanical Specification
| | |
| --- | --- |
| Bezel Color | Black |
| Bezel Width | 14.9 mm (Even Bezel) |
| Weight (Head) | 66 Kg |
| Packed Weight | 104.5 kg (With Pallet) |
| Handle | Yes |
Key Feature (Hardware)
| | |
| --- | --- |
| Internal Memory | 16 GB |
| Wi-Fi | Yes |
| Temperature Sensor | Yes |
| Auto Brightness Sensor | Yes |
| Acceleration(Gyro) Sensor | Yes |
Key Feature (Software)
| | |
| --- | --- |
| webOS ver. | webOS 6.0 |
| Embedded CMS | Local Contents Scheduling, Group Manager |
| USB Plug & Play | Yes |
| Fail over | Yes |
| Image Customization | Booting Logo Image, No Signal Image |
Environment Conditions
| | |
| --- | --- |
| Operation Temperature | 0 °C to 40 °C |
| Operation Humidity | 10 % to 80 % |
Power Consumption
| | |
| --- | --- |
| Typ./Max. | 420 W / 620 W |
| Smart Energy Saving | 294 W |
| DPM | 0.5 W |
| Power off | 0.5 W |
| BTU (British Thermal Unit) | 1,434 BTU/Hr(Typ.), 2,117 BTU/Hr(Max) |
Certification
| | |
| --- | --- |
| Safety | CB / NRTL |
| EMC | FCC Class "A" / CE / KC |
| ErP | Yes (NewErP) |
OPS Compatibility
| | |
| --- | --- |
| OPS Type Compatible | No |
| OPS Power Built In | No |
Software Compatibility
| | |
| --- | --- |
| SuperSign CMS | Yes |
| SuperSign Control / Control+ | Yes |
| SuperSign WB | Yes |
| SuperSign Cloud | Yes |
| SuperSign Media Editor | Yes |
Connectivity
| | |
| --- | --- |
| Input | HDMI (3, HDMI1/HDMI2 : HDCP 2.2/1.4, HDMI3 : HDCP 1.4), DP (HDCP2.2/1.3), DVI-D (HDCP1.4), Audio, RS232C (4pin Phone-jack), RJ45(LAN), IR, USB (USB2.0 Type A(1)), Daisy Chain (HDMI, DP) |
| Output |  HDMI, Audio, RS232C (4pin Phone-jack), Daisy Chain (HDMI) |
Language
| | |
| --- | --- |
| OSD | English, French, German, Spanish, Italian, Korean , Chinese (Simplified), Chinese (Original), Portugues (Brazil), Swedish, Finnish, Norwegian, Danish, Russian, Japanese, Portugues (Europe), Dutch, Czech, Greek, Turkish, Arabic |
Accessory
| | |
| --- | --- |
| Basic | Remote Controller (include battery 2ea), Power Cord, QSG, Regulation Book, Phone to RS232C Gender |
| Optional | OPS Kit(KT-OPSF), LSW640A/B(Wall Mount) |
Special Feature
| | |
| --- | --- |
| Conformal Coating (Power Board) | Yes |
Key Feature
Internal Memory 16 GB, Built-in Wi-Fi, Sensor (Temperature Sensor, Auto Brightness Sensor, Acceleration (Gyro) Sensor), Local Key Operation, webOS 6.0, Embedded CMS (Local Contents Scheduling, Group Manager), USB Plug & Play, Fail Over, Background Image (Booting Logo Image, No Signal Image), Sync Mode (RS-232C Sync, Local Network Sync), Multi-screen (PIP, PBP (4)), Screen Share, Video Tag (4), Play via URL, Rotation (Screen Rotation, External Input Rotation), Gapless Playback, Tile Mode Setting (Max. 15 × 15), Setting Data Cloning, SNMP, ISM Method, Auto Set ID, Status Mailing, Control Manager, 3rd Party Compatibility (Crestron Connected®), Power (Smart Energy Saving, PM Mode, Wake on LAN, Network Ready, Beacon, HDMI-CEC, SI Server Setting, webRTC, Pro:Idiom
Proper Display Brightness
With a recommend brightness of 500 cd/m² for an indoor display, the UH5J-H series clearly deliver content and attract public attention, making it the most suitable display for marketing in meeting rooms, airports, retail, shopping malls etc.
* Actual images available may differ from the example images shown.

Conformal Coating
In various places the UH5J-H series is unable to avoid exposure to environments containing dust, humidity, etc. which may hamper performance over time. The conformal coating on power board reduces these risks by protecting UH5J-H series from salt, dust, iron powder, humidity, etc.
* Actual images (signage display) available may differ from the example images shown.
Mobile Content Management
You can create a store profile and get template recommendations using the Promota* app. Users can customize templates for all industries and easily create and manage content not only on PCs but also on mobile devices.
* LG Promota is can be downloaded from the App Store and Google Play store. (Not available for Europe/CIS Region)
* In Korea, the name is not Promota, but Mustard.
IP5x Certified Design
The IP5x Dust-Proof Certification ensures that the product is protected from dust, reducing the risk of performance degradation.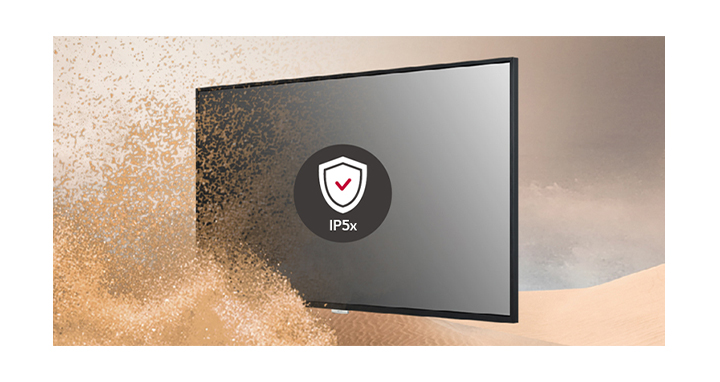 Compatible with
AV Control System
The UH5J-H series has supported Crestron Connected® for high compatibility with professional AV controls to achieve seamless integration and automated control*, boosting business management efficiency.
* Network based control